HostGator and Hostinger both started out as independent hosts, but HostGator was bought out by Endurance International Group (EIG) almost a decade ago.
To find out which of these two web hosts is better, I ran some extensive tests on both of them. I checked their performance, features, and security, compared their pricing, and even contacted customer support to see which host provides better service.
1. Plans & Pricing
Hostinger's Cheap Plans Are Tough for HostGator to Beat
For shared hosting, Hostinger has three low-priced plans. Monthly, you'll pay pocket change for hosting a site here. The Single plan lets you host one website, while Premium and Business provide additional features and functionality.
The top plan, Business, includes 200 GB of SSD storage, unlimited bandwidth allowance, and databases. You'll also get a free domain, free SSL, and free daily backups. Unless you are on an extremely tight budget, this plan is my recommended pick for a good balance of features and pricing.
HostGator's also known for low pricing, but its plans are slightly more expensive that Hostinger's. HostGator has three shared hosting plans – Hatchling, Baby, and Business – and the big differentiator of HostGator vs Hostinger pricing is unmetered bandwidth and storage with all its shared hosting plans. HostGator is generous at lower price levels, with SSL and backups available to all customers without charge.
Hostinger Web Hosting
| | | | | | | |
| --- | --- | --- | --- | --- | --- | --- |
| Plan Name | Storage | | Bandwidth | Free SSL | Number of Site | Price |
| Single | 30 GB SSD | | 100GB | Yes | 1 | $1.39 |
| Premium | 100 GB SSD | | Unlimited | Yes | 100 | $2.59 |
| Business | 200 GB SSD | | Unlimited | Yes | 100 | $3.99 |
HostGator Web Hosting
| | | | | | |
| --- | --- | --- | --- | --- | --- |
| Plan Name | Storage | Bandwidth | Free SSL | Number of Site | Price |
| Hatchling Plan | Unlimited | Unlimited | Yes | 1 | ₹203 |
| Baby Plan | Unlimited | Unlimited | Yes | 0 | ₹258 |
| Business Plan | Unlimited | Unlimited | Yes | 0 | ₹387 |
Both hosts offer WordPress hosting and cloud hosting if you need a more advanced solution.
Free domains are available depending on the plan you choose, and you can register more domains at both hosts via your dashboard.
2. HostGator vs Hostinger: Features
Hostinger Offers a Proprietary Control Panel
If you're new to hosting, you might be looking for one-click WordPress installers and website builders. Both HostGator and Hostinger will meet your requirements there.
But here's a big difference. HostGator uses cPanel, and Hostinger doesn't. This might matter if you want something more advanced from your hosting plan.
cPanel is a web hosting control panel that lets you look after the technical side of your hosting account yourself. Through cPanel, HostGator has support for practically every programming language and feature you could dream of. CGI, Ruby, and Python right down to instant installers for forums and guestbooks. If you're used to cPanel, the learning curve after you move hosts will be non-existent, and its Business plan is ready for e-commerce out of the box.
Hostinger has a custom panel called hPanel, which always requires a little more getting used to when you move from another host. However, when my colleague tested Hostinger's control panel, he found it very easy to use. cPanel does offer access to more features, but most of us won't be using most of them, so it can feel a little cluttered.
In general, Hostinger's list of features is great for beginners – the plans provide everything you need, and there are also a few perks, including tools to boost your performance.
3. HostGator vs Hostinger: Performance
Hostinger's Uptime Data Leaves HostGator in the Dust
Shared hosting slices a server into individual accounts; they're separate, but share the same underlying server resources between them. There are sometimes performance problems on shared hosting when one site starts to consume resources that its neighbors need.
There's no way of guarding against this, but HostGator does refer to "low-density servers" on WordPress plans. I'm inferring that it means it limits the number of customers per server, and if so, that should help with your site's speed and performance. Unfortunately, there's no real detail to go on.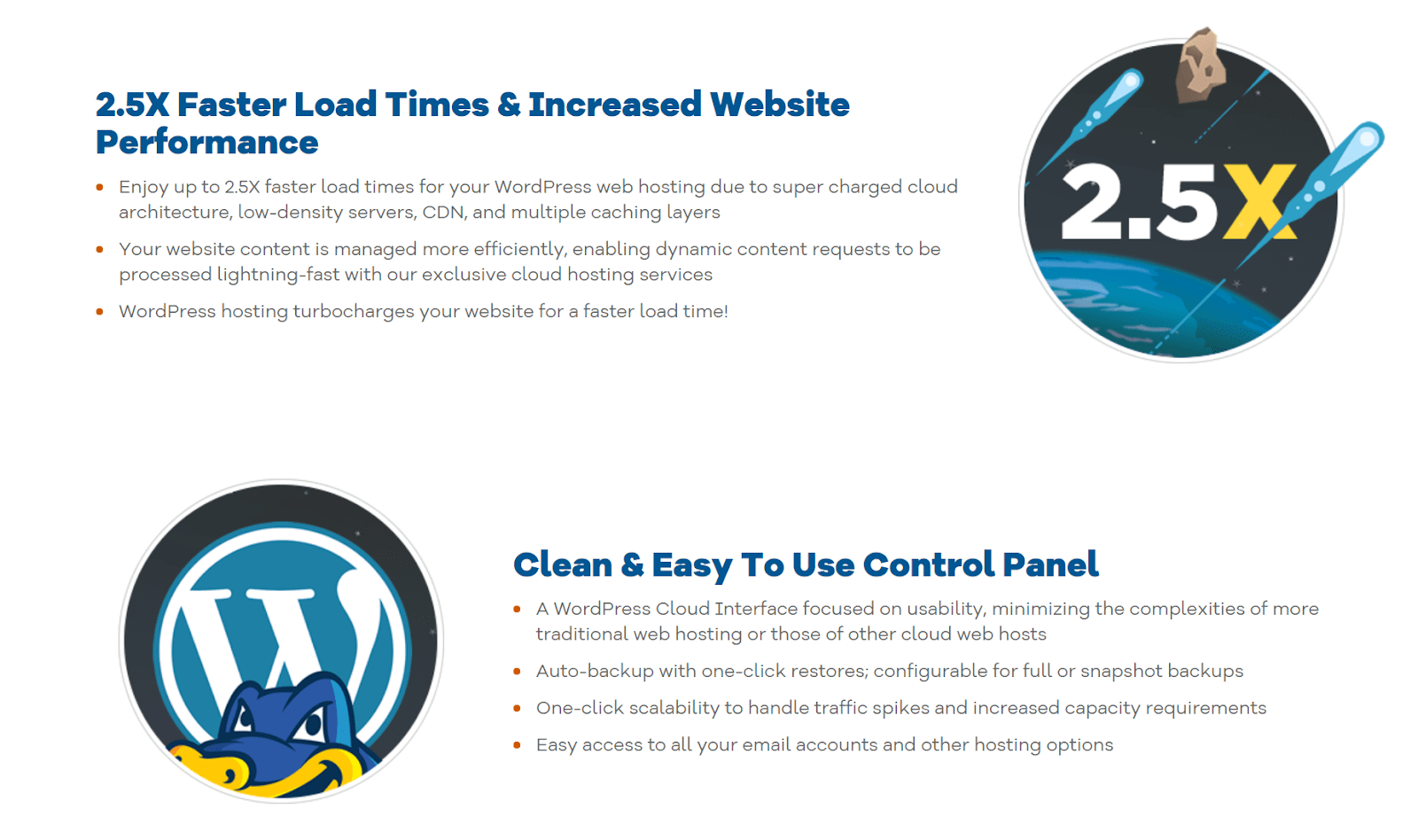 Hostinger uses cloud-based technology and "3x optimized WordPress," but it doesn't explain what the "3x" stands for, or how it uses the cloud. So it sounds good, but it's difficult to judge whether it's going to protect you against performance problems based on this alone.
HostGator says it loads pages "up to 2x faster" thanks to "premium hardware" and caching. In truth, the plugins you run on your own website are likely to impact performance more dramatically than the server hardware, but again — let's go with the positives here.
Hostinger's servers all use SSD storage, which is promising; solid-state drives usually result in marginally faster data retrieval.
On the Hostinger website, you can also see uptime stats for the last week, and a summary stat for the last 30 days. It even publishes its latest episode of downtime. HostGator doesn't do this, but remember; it will likely share a data center with dozens of other Endurance International Group brands, so it may not even be possible to say what its uptime looks like.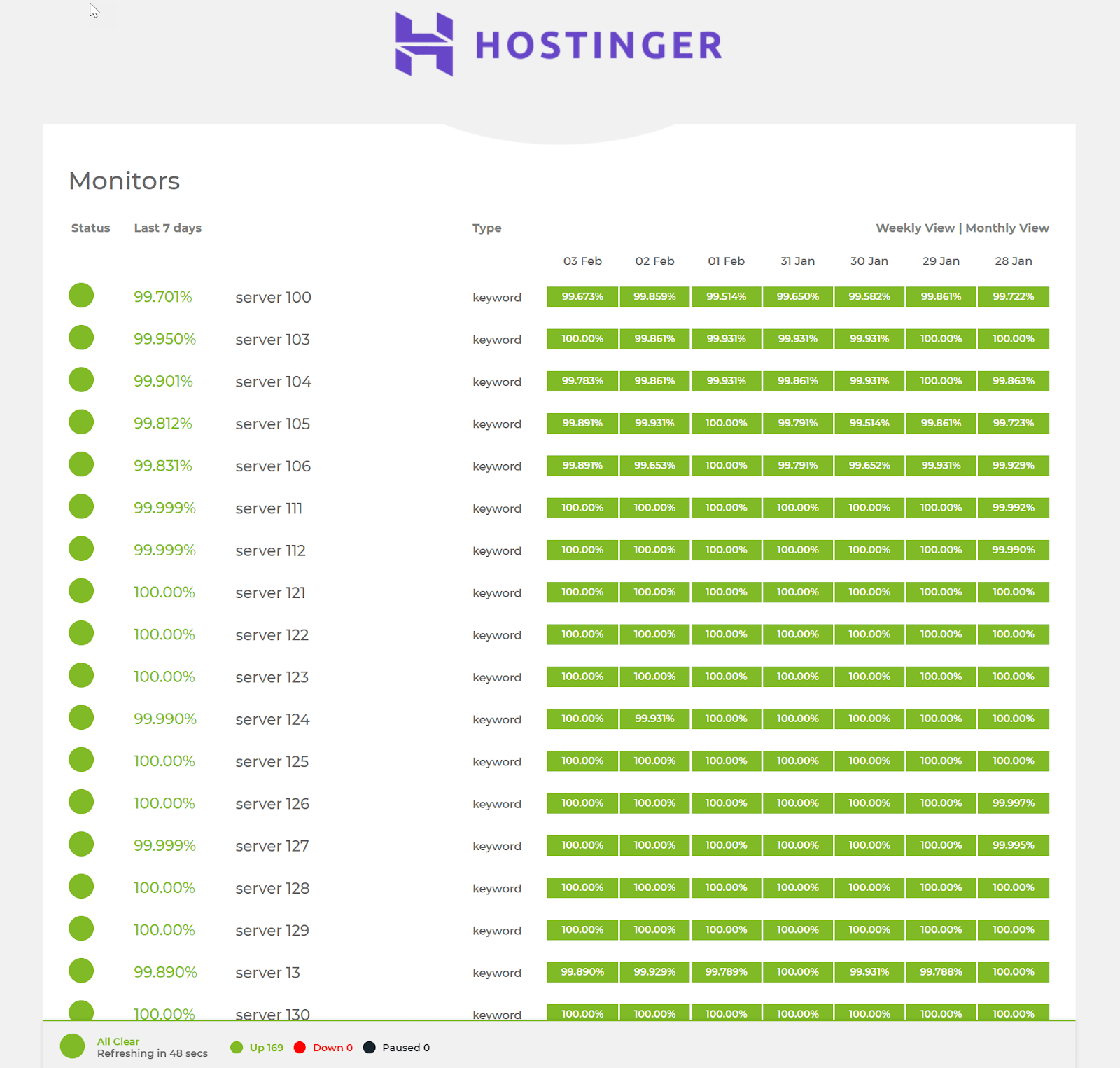 Both hosts' uptime guarantees are very similar, with cloud hosting providing marginally better uptime promises than other types of hosting.
HostGator isn't a bad web host, but for shared hosting, you really can't do better than Hostinger. Hostinger's shared hosting plans are not only extremely affordable – they also provide the best performance I've even seen from a shared hosting service.
So this is the ending of this article, if this article help you the also check out the comparison of – Contabo vs. DigitalOcean.